The UK's no1 provider of 100% Organic Wildcrafted Sea Moss, naturally rich in minerals, protein and iodine. Our sea moss has been harvested in the tropical waters of Jamaica and St Lucia containing 92 of the 102 minerals that the body is made from. 
Our mission is to create the best high-quality, effective and 100% natural wildcrafted sea moss products. Our passion for health, transparency and integrity is reflected in every step of our process, from harvesting to production. Best of all our UK next day shipping service is absolutely free. 
UK Lab Tested

Our sea moss is sent to third-party laboratories for quality testing and analysis

Non GMO

Our wildcrafted sea moss is 100% natural we do not use any preservatives

5 Star Food Hygiene

Awarded the highest rating of Five Stars from The Food Standards Agency

Free DPD Delivery

We offer complimentary nationwide delivery on every order
Shop Our Best Sellers
Regular price

£15.50 GBP

Sale price

£15.00 GBP

Unit price

per

Regular price

£25.00 GBP

Sale price

£25.00 GBP

Unit price

per
"You're made of elements. Take the time to learn the foods with high element properties, in order to save your health and your body." - Dr. Sebi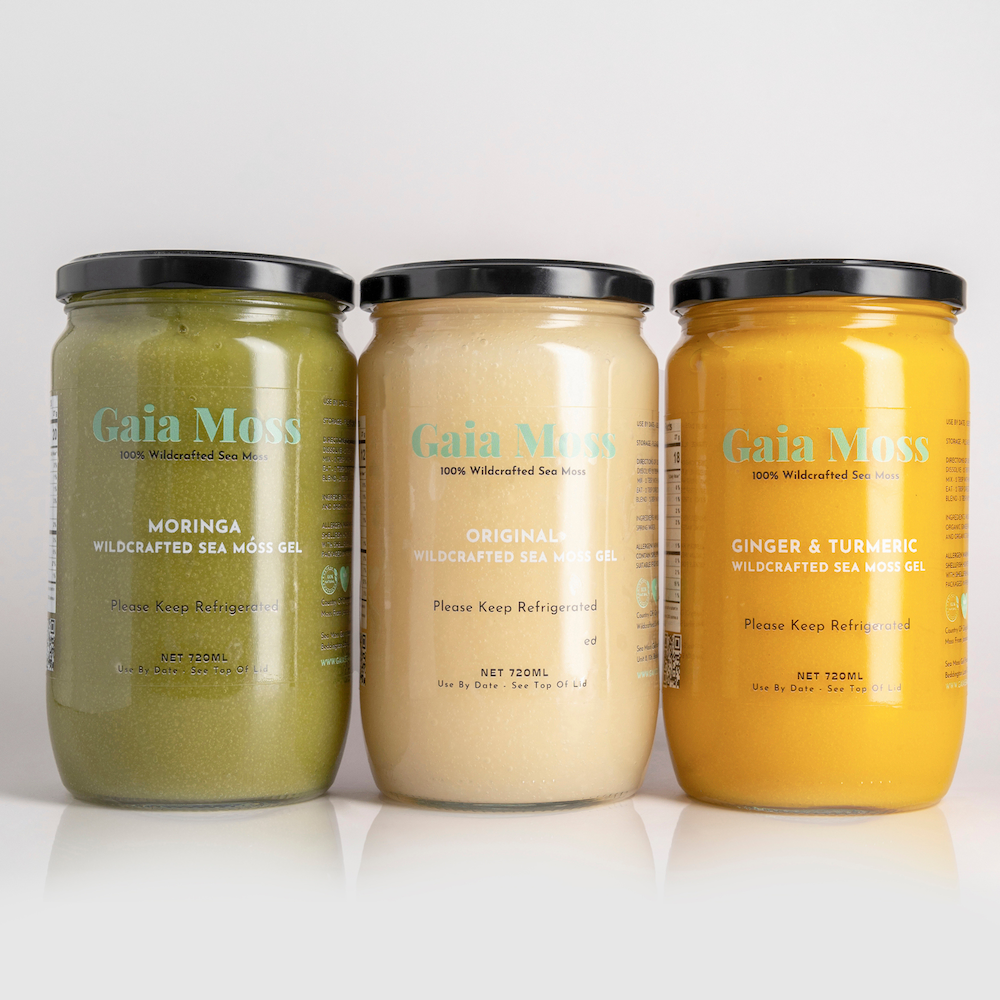 Say Hello to Nature's Multivitamin
Naturally rich in vitamins and minerals, our 100% wildcrafted sea moss gel is made fresh daily without using any chemicals, preservatives or binders. Our sea moss has been quality tested in a UK laboratory.
Click below to see how starting your Gaia Sea Moss journey could benefit you.
Learn More
100% Wildcrafted Sea Moss, Bladderwrack and Burdock Root 500mg Capsules - 30 Day Supply
Regular price
Sale price
£26.50 GBP
Unit price
per
Sale
Sold out
Share
View full details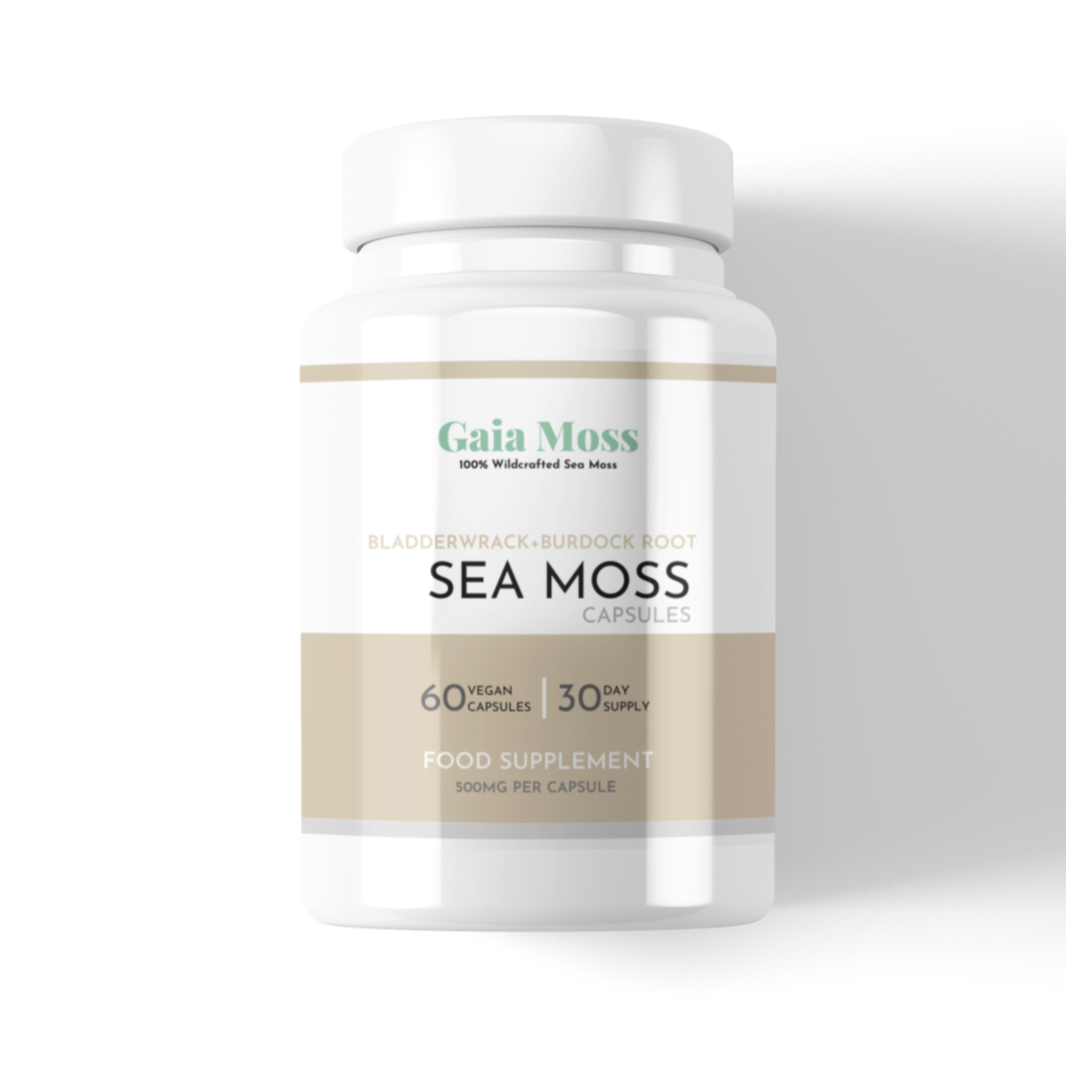 Special Offers
Regular price

Sale price

£28.00 GBP

Unit price

per
✔100% Wildcrafted Sea Moss
✔backed by science
✔non gmo
✔100% Wildcrafted Sea Moss
✔backed by science
✔non gmo
How Do You Consume Your Sea Moss Gel?
Shakes & Smoothies

Blend - 2-3 tablespoons in your smoothies or shakes.

Water & Fresh Juice

Mix - 2 tablespoons into water or a fresh fruit drink.

Teas / Hot Drinks

Dissolve - 2 tablespoons into your herbal tea/ hot drink.

Eat From The Spoon

Eat - 2 tablespoons of sea moss gel directly from the spoon.
Frequently Asked Questions
I'm New To Sea Moss, Which Product Do You Recommend?

To actively benefit from the nutrients found in sea moss you have to consistent in your consumption. Either our original 380ml/ or sample collection is a great start alternatively our capsule collection is easier to have on the go.
What Does Sea Moss Gel Taste Like?

Our original flavour sea moss gel is generally tasteless. The other blends/flavours will taste like the ingrdiegents used.
How Long Does Sea Moss Gel Last?

Our sea moss gel will be delivered with a 14day use by date. We understand that this is a short shelf life to some however our sea moss is 100% Wildcrafted and is made fresh daily without using any preservatives/ binder or chemicals. None of our sea moss gel products will have a use by date over 14days. We do also offer longer shelf life products such as capsules and powders.
How Much Is Delivery?

No need to worry about shipping cost as we offer a zero % shipping fee. Our products are dispatched by DPD (DPD provide a 1hr delivery window) providing a fully tracked fast next day delivery service.

Please ensure you have checked the shipping address before confirming your order. Please let us know about any errors immediately, whilst we will do our best to change details of the shipping address, once a order has been posted we are unable to make any amendments.

Once your order has been shipped you will receive notification of this via email. In the unlikely event that you do not receive your order within 3 days please contact us.

Please ensure someone is able to receive your order. We do not recommend  for you to change your delivery status (deliver to neighbour/change delivery date)  once your item has been shipped, as we cannot guarantee that our couriers will action your request and we will not take responsibility or issue refunds for any missed deliveries.
How Do I Make Changes To My Subscription?

Any changes to your subscription account can be made via your subscription portal. You can cancel or change your subscription at any time. Your order confirmation emails have links to your order. You can manage your subscription from there or alternatively contact us and we will be more than happy to make these changes for you.